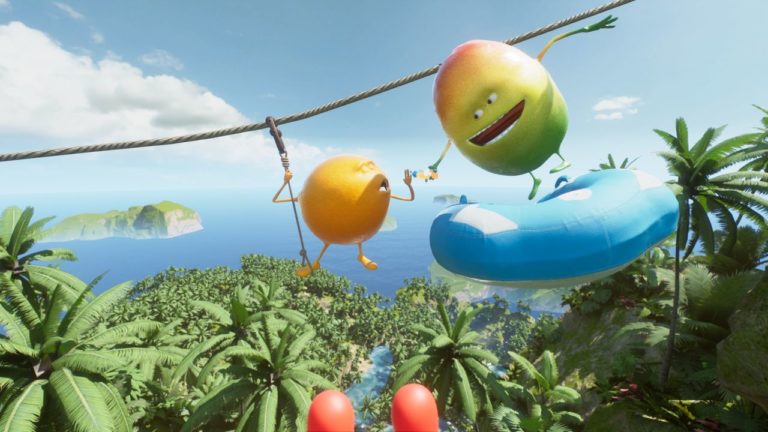 The Infruinite Slide is a fruitfull ride in a colorfull and cartoon world.
Based on a campagin for juice brand Oasis, The Infruinite Slide is a rhythmic and frenetic descent in a waterfall on a tropical island.

Sensations and exoticism guaranteed!
✔ 100% VR ATTRACTION
dynamic seat & wind
✔ HIGH THROUGHPUT
up to 15 players per hour
✔ SUITABLE FOR EVERYONE
freshly squeezed juice
✔ HIGH FIDELITY RENDERING
developed with Unreal Engine
✔ A NEW KIND OF RIDE
virtual roller-coaster
✔  OFF THE SHELF TECH
HTC Vive & GPU 1070 (min)
Art, invited to take its place in an emerging virtual reality
Birdy was an opportunity to demonstrate that virtual reality, still emerging at the time (2014), could be something other than a technical demo.
The experience quickly rose to the top 3 downloads on VR stores of the time.
There were countless tests by YouTubers, including the famous PewDiePie! Millions of views accumulated at the time, but still the same problem: VR is only understandable if you experience it!
"We wanted to bring the "roller-coaster VR" genre to another experiential dimension by developing a universe rich in sensations,  accessible to everyone, and tinged with references to pop culture."